On July 21, 2021, Trilateral Cooperation Secretariat (TCS) held the 10th Anniversary Symposium Series Vol. 5 on "Trilateral Agricultural Development and Rural Revitalization beyond COVID-19". Eminent subject matter experts from China, Japan and the ROK shared recent agricultural and rural policies, and outstanding practices at the symposium.
The Symposium was moderated by Professor CHUNG Young-il, professor emeritus of the Seoul National University and Former President of Korea Rural Economic Institute (KREI). At the symposium, Professor ZHANG Hongyu from Tsinghua University gave an overview of China's rural revitalization achievements, and introduced the future direction including strengthening agricultural industry security, agricultural development in WTO framework, rural reforms, and international agricultural cooperation. Professor OGUCHI Atsushi from the National Graduate Institute for Policy Studies introduced Japanese agricultural policies to combat COVID-19 such as diversifying sales channels, supporting to solve labor shortage, financial support to farms, and in the long term to achieve sustainability in agricultural and rural development. Dr. LEE Myoung-Ki from KREI shared new economic and social features in agriculture and rural life that had emerged during COVID-19 and how Korean New Deal policy framework guides future agricultural and rural development.
In the case presentations, various rural cases which embrace local characteristics were introduced. Professor TANG Lixia from China Agricultural University introduced Urban-driven model rural revitalization in Kunming City. The model puts the city as center, and leverages resources differences and promotes resources flow between urban and rural areas. Professor HIRAI Taro from Hirosaki University introduced a rural company's endeavor on utilizing human innovation, management innovation, and cultivation innovation to revitalize rural areas in Aomori Prefecture which faced population decline. Dr. SHIM Jae-hun from KREI introduced digital nomad model in Hansanmeyon, Chunchungnam-do in ROK, a rural area which once faced extinction but got developed by attracting youths and expanding digital lifestyle.
Secretary-General MICHIGAMI Hisashi underlined the importance of exchanges and communications on agriculture and rural development. He stated that the three countries convened Trilateral Agricultural Minister's Meeting (TAMM) to discuss challenges and cooperative opportunities, and one of the key cooperative areas is agricultural and rural revitalization. In the TAMM framework, TCS supports the three countries' cooperation by implementing projects such as today's symposium as well as the Trilateral Young Rural Leader's Exchange Program which is to be held in a later time. Deputy Secretary-General KANG Do-ho in his closing remarks stated that the development of agriculture and rural areas should be co-realized by the cooperation among different stakeholders such as government, academia, business, and by collaboration across countries.
Agricultural and rural development are important agendas for China, Japan and the ROK. The similar agricultural characteristics yet different developmental pace allowed mutual learning to benefit each country. COVID-19 has imposed difficulties to global agricultural and rural development, which has underlined the importance of further exchanges and communications among the three countries. The symposium provided a valuable platform for in-time information and knowledge sharing. More than 230 participants including representatives from ministries, local governments, academia, and corporates of the three countries, and international organizations attended the online symposium.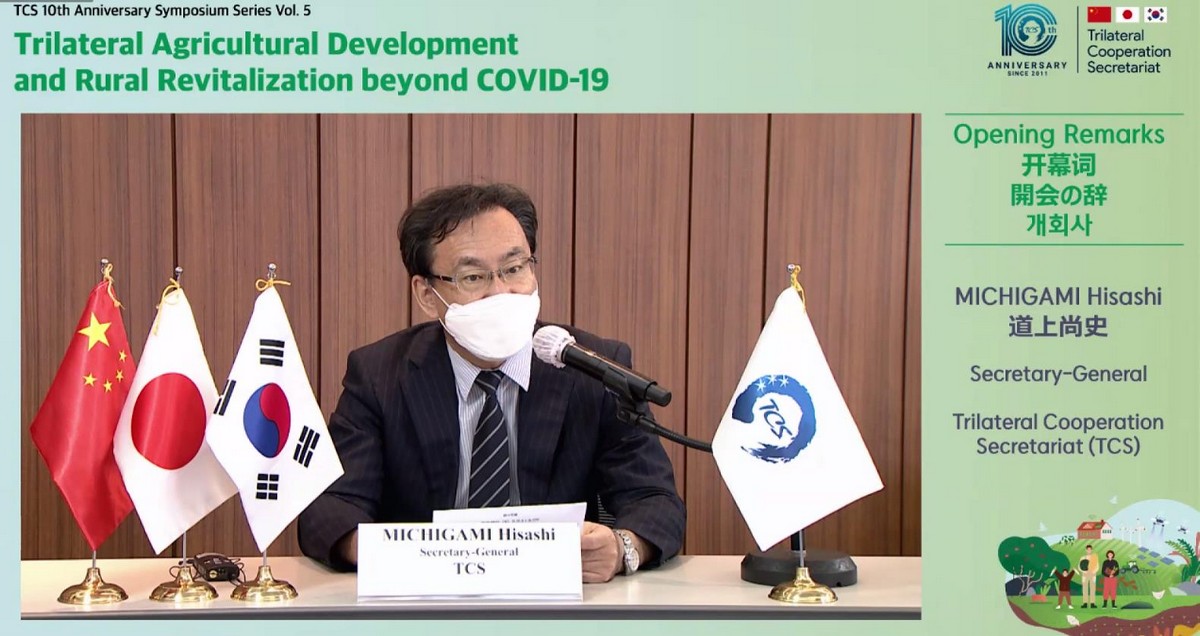 ▲

SG MICHIGAMI Hisashi delivering opening remarks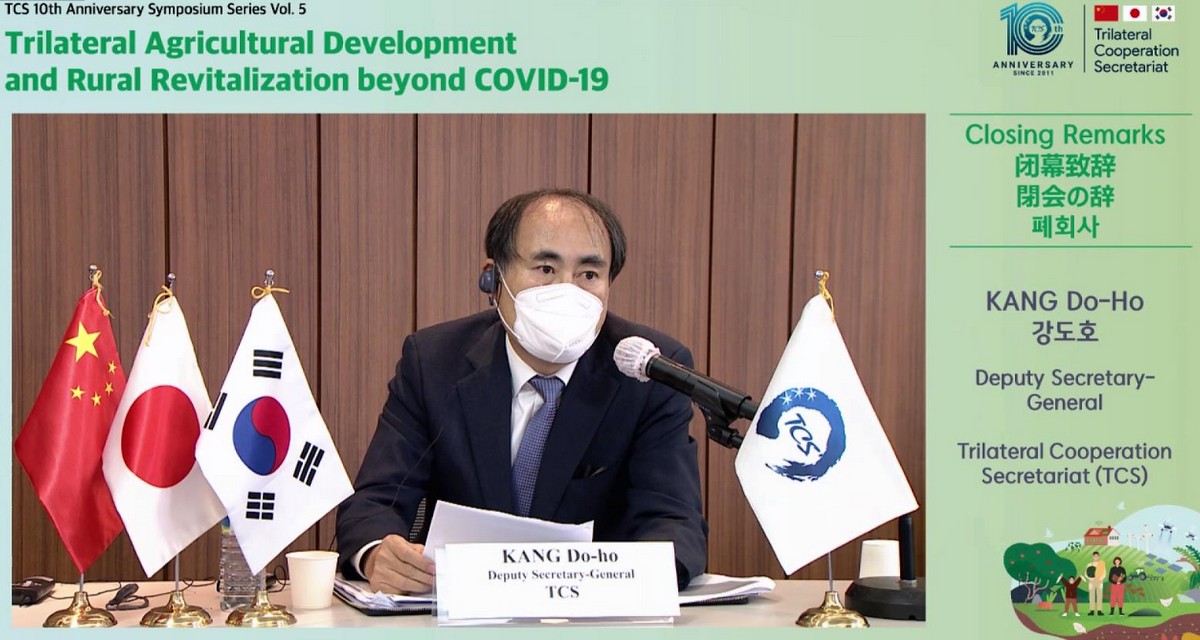 ▲

DSG KANG Do-ho delivering closing remarks